E

KLEKTIESE TUISSKOOL
doen dit jou manier


Worstel jy met die volgende vrae...

Is wat ons doen reg ?

Doen ons die regte ding ?

Gaan dit werk ?

Vrae soos hierdie sal nog meer wees as jy geneig is om jouself en jou kinders te vergelyk met ander. Dit is maklik om in die gat te val van vergelyking om jou eie vordering te meet. Meting is belangrik, maar mens meet nie jouself deur te vergelyk met ander nie. Jy meet jouself net aan jou eie doelwitte, jou eie waardes en jou eie visie. Dan alleen sal jy weet of jy besig is om te vorder en of jy die regte dinge doen in jou tuisonderwys reis....

Dit is wanneer mens meet dat jy veranderinge begin aanbring (aan jou skedule, jou huis, jou kurrikulum, die roetine ens.) en aanpas en jou eie ding begin doen om jou styl te pas. ...Dit is dan wat mens dit noem eklektiese tuisonderrig. Dit gebeur met meeste tuisskolers oor die jare, omdat geen kurrikulum die een-grootte-pas-almal antwoord vir jou kind se individuele behoeftes, is nie.


Op die volgende bladsye sal jy 'n baie eenvoudige proses vind wat in 7 maklike stappe afgebreek is, om jou te help om jou tuisskool kontinu te verbeter.
Die 7-Stap proses diagram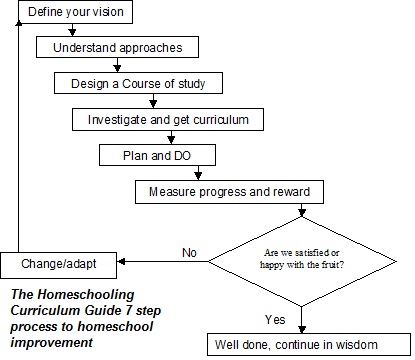 Hierdie proses is iets wat ek self ontwikkel het oor die jare soos wat ek dit persoonlik toegepas het. As dit jou sal help om die konsepte nog beter te verstaan besoek My eklektiese tuisskool manier en sien hoe ons dit gedoen het ! Onthou elke gesin is uniek en die uitkoms vir elke gesin is dus ook uniek.
Dit mag ook sinvol wees om te lees oor Kinderontwikkeling fases vir meer inligting oor wat belangrik is in watter fase.

Buy the

for all the info

on each step

including templates

for your use



---
Vir meer inligting op elke stap kliek op dit :