Take Some Time to Remember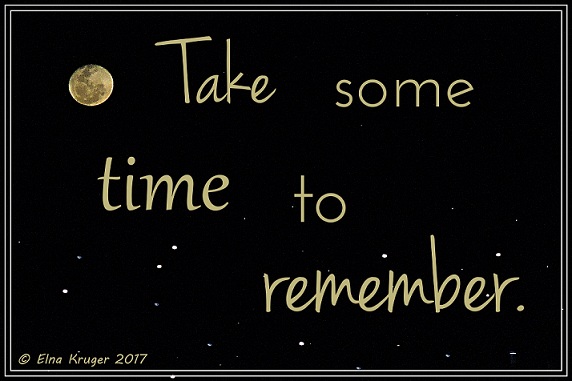 It is nearly the end of the year and this will be the last ezine for 2017. It has been a challenging year with two kids doing high school home school, one wrote Cambridge exams for the first time and all of the children also focused on achieving serious sports goals! So our family is looking forward to a seaside holiday at the South Coast, where we will sleep, swim, read, and have free time!
It is during the holiday season that there are large amounts of time that can be spent doing other things than the normal activities and schoolwork – a luxury one appreciates more and more as you grow older. It is during the holidays that I try to think back about the past term and year, and are able to appreciate and enjoy memories made.
There is a deeper value in thinking back to evaluate and remember things than seem obvious. So many times the Israelites had to be told, "Remember what the Lord has done, remember how He has been faithful, how He helped [them] or guided [them]." The times they remembered, there was peace; when they forgot, things started going awry.
May this principle be something that we also apply in our family lives, and for good reason... Remembering the faithfulness of God (how He helped and guided in the past), and recalling lessons and specific shared memories is something that has the power to inspire, encourage, and give hope and a new perspective on present challenges and the future.
During this holiday season especially, take time to not only make memories, but remember good times you and your family had over the past year. This is one of the reasons why I try to take photos of all happenings, including every-day things like the children working, whether at their school desks, in the kitchen preparing food or in the garden or reading with the cat laying on their laps or doing projects, playing with friends, watching sunsets – all the little things that fill our days.
Such photographs will not necessarily win photography competitions (although if you have a passion for photography, you never know!), but they are invaluable for the memories they trigger. I make a point of sorting through photos, organising them into folders for the children, printing some of them and also scheduling times that we can look through the pictures and reminisce. Such 'photo-nights' can trigger various conversations and be a source of real bonding and fun.
Another reason to remember is so you can evaluate and analyse your progress objectively, since you are not head-first involved and busy with the normal activities that take up time during the term. Even though holidays can become a rat-race if you don't carefully manage your energy, it is easier to relax and purposefully make time for thinking back about how things went, than it is to do during the year.
So do yourself a favour, have a cup of tea, and consider the year's highlights, the lowlights, what went well and what can be improved, adapted or even just let go of, for the next year ahead. Measuring your progress (Step6) is the only way you will know whether you are moving toward your goals or not, in order to be able to adapt or change (Step7). This is the way you will improve your homeschool strategy and grow in confidence with each passing year.
Have a wonderful holiday! See you again in the new year.
Until next time, Willemien
PS: Note that final dates for ordering products to be delivered this year is Friday 8 December 2017. Else it will be processed in 2018.
---
There are many wonderful things that will never be done if you do not do them. (Charles D Gill)

---
Want more info?
Need curriculum?
Prefer to talk?
---
Copyright © 2017, Homeschool Curriculum Guide
---