Value in the Journey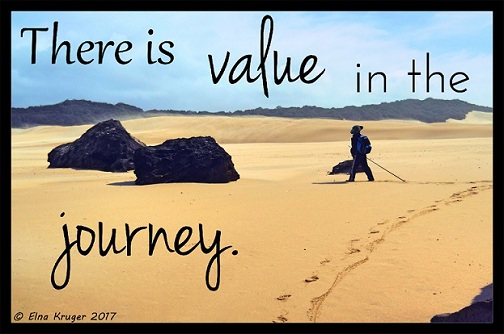 This photo brings back so many memories....my oldest boy taking the lead on our 5-day hiking trail on the Eastern Cape seashore, with the icy wind blowing so hard we had to cover everything to keep the sand out of our eyes, noses and ears. We were expecting warm summer weather, obviously not knowing the Eastern Cape's windy shoreline. Even so, we had plenty of fun!
In looking back I can see how our children (and us!) grew in learning how to cope with difficult circumstances as they encounter it. On our journey we had to deal with different settings, places, people and circumstances – not always ideal or easy, and each time we had a choice to make: either adapt or leave. Most of the experiences, adventures, opportunities, mishaps and all, were new to us, and we had no way of knowing what to expect. Some of them were even downright scary, especially when things did not work out according to plan....
Changing circumstances can sometimes be planned, but sometimes not.
The decision to make the most of it, and learn something - is yours.
Sometimes difficulties were not planned, like the time when the wind was blowing us away in a campsite and we had to look for a more suitable place to stay. Or when the accommodation provided by a host where we volunteered, was cramped, cold and uncomfortable. Or the time when we got lost on farm roads and even the GPS 'lost its way'! Or the time when the only place to eat was a real pub (and it was already late at night) - we could have left (and stayed hungry that evening) or choose to stay and expose our children to another type of 'culture' while at least having dinner. We chose to stay...and the owner put such effort into ensuring we are comfortable and well-served. In all these experiences, memories were made – memories made together as a family.
Sometimes unconventional circumstances were planned as part of the journey, then one is better prepared. Like the time when we stayed in a very tiny, yet comfortable flat for nearly two months, and we just had to make up new rules to cope with being in each other's space a lot of the time. Or when we went canoeing on the Orange River, and we knew we will have to sleep on the ground for a week, wear the same clothing every day, and won't be able to take a proper bath. Again, these were the things contributing to making this experience so special and worthwhile!
We knew we were taking big risks when we started off on our journey. We did not know where those risks would take us, or how things will turn out, but we knew we would not grow by not taking it. The irony was in the fact that we could also have chosen to take the risk of staying put where we are. Even though we often think 'being responsible' is equal to taking no risk, risks are always part of any decision.
Taking risks are scary, but that is how you grow.
There are benefits in expanding your own and your children's horizons. If we are constantly trying to keep our children safe, they may be missing out on those opportunities where risks can be taken and they can grow. Often in those experiences where things are uncomfortable, you will discover you can do/be more than you thought you could. If we don't take chances, fear will hold you back and you will never know what could have been. The same applies to your children.
In reflecting back on our journey, and the big risk we took, all of us know that it was absolutely worthwhile even though we did not the outcome beforehand!
There was VALUE IN the JOURNEY.
This is an experience which nobody can take away from us now. Each of us know now more than ever, that we can adapt, learn and grow in a variety of circumstances. Even my youngest said the other day that this journey helped him learn the simple act of being able to sleep anywhere in his sleeping bag. Although that may be a simple thing, the fact is that he learnt to deal and adapt with discomfort in his own way.
Although we had a real travel journey.....home educating your children is also a journey you undertake – a journey with all those risks associated with the unknown, circumstances that may change, some things which will work out and some things which won't. But in the end there is always value in the journey.
For more on our 2 year journey of South Africa have a look at our Travel blog

Until next time, Willemien
---
How we spend our days is how we spend our lives. (Annie Dillard)

---
Want more info?
Need curriculum?
Prefer to talk?
---
Copyright © 2017, Homeschool Curriculum Guide
---