Step 5 - Plan and DO
Quickjump to What is it about ? or Actions to do or Templates

Read more to see how our family has done Step 5 to develop our Schedule

So now you come home with curriculum – the first thing you do is to put it into the right bookshelf, space or category. In this way there is order in the home. Sometimes you have bought curriculum that will not be used immediately or even the next year, and therefore you know that is it put into the right place for planning it later on.
This Step focus on the activity of planning your next immediate year for either one child or all of them. It is the time to plan or schedule your year/quarter/weeks so that your child can realistically finish the curriculum at some point in the future. A schedule is the very simple handy tool of knowing what to do when. And there are so many planners available that you can even pick and choose the one you like most. But still remember that even a schedule must work for you not against you and the schedule should help you maintain peace in the home not create stress for not finishing. And of course the most important action in this step is the actual execution or DOING of the plan!
Planning is the overall term for planning your days/weeks/quarters time in order to be able to manage it better. Do not try and schedule for longer than a year. A schedule lays out who will do what, when. This will help you and your children to have a good idea of what is expected of them to do. It may include chores, lessons, extramural activities, but for the purpose of this page we will focus on scheduling of their 'schoolwork' i.e. to fit the curriculum to work.
In books about homeschooling you will find samples of planners of a wide variety – from planning your year, to dayplanners to meal planners etc. You will find that different people use different planners, and not everyone may work for you ! But take heart – you can learn from anyone. Have a look around and experiment, try one and see what will work for you.
When deciding on some principles to follow ask yourself the following questions :
a. How long is 'schoolyear' ? (will it be eg. 30 weeks, 36 weeks or 40 weeks)
b. How long is a term or a quarter ? and how many terms make a year?
c. How many weeks are in a term or a quarter ? (public schools have about 11 weeks per school quarter)
d. How many days in a week will be available for work ? (If your children have music or sports during a morning, that morning will not have the same time available as other days and will affect your schedule)
e. How many days per week would you like to work ? should one day be a 'nice word school day'?
I follow 2 main principles – we have 4 quarters each year. Each quarter consists of a 2 month school, 1 month holiday rhythm, with 9 weeks per quarter. Every week has 4 days full morning work and 1 day 'nice work' (Art, music, experiments, poetry, technology etc.) This is taken into account when I actually sit down to schedule the work for the year.
How exactly does it work?
Start off by planning just 3 sets of schedules – yearly, quarterly and weekly goals. For a yearly schedule select a book or books per subject you think you can realistically work through the year. Then take the book(s) for the year and divide it into 4 quarters – that is your quarterly schedule. Then take the quarterly schedule and divide it into 9 weeks (for a 9week quarter) and then you take a week's work or pages and divide it into the amount of days you want to work on it to end up with a daily/weekly rate of work to finish this book in a year. For example – if you have a Biology book of 240 pages, this implies 80 pages per quarter, with an average of 10 pages per week to complete in a year. If you do Biology everyday, the schedule will state that you can do 2 pages per day, but if you only do Biology once per week, 10 pages will have to be completed in that session. Sometimes one can even at this point see whether the plan is realistic or not, but often it takes the doing side to show it to us.
If you start off by doing the work as per schedule and it shows that it is indeed unrealistic, adapt, make changes, reschedule. But take note that often we as parents underestimate what our children can really do. I have tested my child one year when she was only 9 years old, by increasing the volume of work dramatically, and I was surprised at how well she coped with it. I just didn't ever mention to her the fact that I actually was testing her….
The scheduling activity is thus the figuring out of how many pages of each book/curriculum must be completed each quarter/week/day in order for my child to finish the book/curriculum in a year. Sometimes it is pages you plan, with another curriculum it might be Lessons you plan. For example if there are 30 Lessons in total to complete in a year, you know that you must finish 1 Lesson per week. The more difficult things to schedule are the projects and interest related research projects which do not neatly fit into a time frame and often do not have a set of books or preplanned set of material. For these I like to schedule them for our freetime school day or to do during holiday time. For our family's personal schedules please see [step5ownschedules].
Just a warning – scheduling is not something I have seen many parents do, and I believe this might be one of the reasons that people get frustrated if they do not complete the workload that they have envisioned. If you have not planned work, you will not be able to see how much time you need to spend on work to finish. If it then becomes a habit of 'taking a day off' here and there, you might find yourself easily in a situation where you have much more work left to do than you want, and you may experience stress and worry. On the other hand, I have seen people who are not concerned about finishing work, and only follow the principle of 'working as we can when we can'. For these people it is not a problem if work is not finished because they care about other things. Sometimes this is good if the family has another vision for their children, but often it is these people that stress the most, and they do not know why. Scheduling work can really help preventing unnecessary stress.
1. Decide on some principles you will follow for scheduling as guided by the questions in the text mentioned above.
2. Plan some annual goals in a notebook in general and individually as taken from your vision or Individual vision plans you made earlier on.
3. At the start of a quarter plan quarterly goals
4. Get out the curriculum you have for each subject
5. Schedule the work into quarters first and then weeks. Make a pencil note of these in the cover of each book.
6. Draw up a schedule (you may use the template shown) and adapt as needed for your personal use. There are lots of neat homeschool planners available on the web, use whatever suits you.
Visit Homeschool Records a Free online homeschool calendar/scheduler, grade keeper and allowance tracker.
7. In each block write down the planned pages per subject per day for a week (usually you only have to do this for one week and then the child will know what is expected of him/her)
8. If you struggle to plan a subject, do not worry and just leave it. See what gets done and later on try and schedule if needed, else just relax about it.
9. Enjoy the process that should take only a few hours at most!
10. EXECUTE or DO or FOLLOW the plan ! and be ready to measure (next step)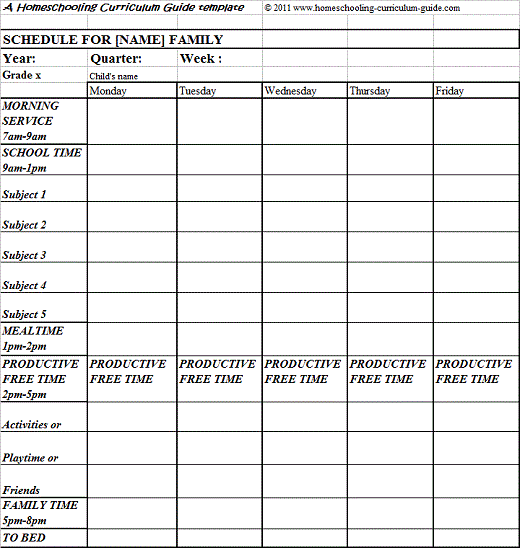 Move to Step 6 – Measure and reward
---
Coming soon - Homeschooling Curriculum Guide series of books - 7 titles
---
For an example of what we have done Go to Step 5 Plan and do personal
For more information on the phases click on the relevant link
Back to 7 Steps process overview
Back to Homeschooling Curriculum Guide Home Page