Step 5 - Plan and DO
Step 5 focus on the activity of planning your next immediate year for either one child or all of them.
It is the time to plan or schedule your year/quarter/weeks so that your child can realistically finish the curriculum at some point in the future.
A schedule is the very simple handy tool of knowing what to do, when.
There are so many planners available that you can pick and choose the one you like most.
Remember however, that a schedule must work for you and not against you.
The schedule should help you maintain peace in the home, not create stress for not finishing.
And of course the most important action in this step is the actual execution, the DOING of the plan!
What Is It About?
Planning is the overall term for planning your days/weeks/quarters time in order to be able to manage it better.
Do not try and schedule for more than a year.
A schedule lays out who will do what, when.
This will help you and your children to have a better idea of what is expected of them.
It may include chores, lessons, and extramural activities, but for the purpose of this page we will focus on scheduling of their 'schoolwork'. Meaning, the curriculum you sourced in step 4.
In books about homeschooling you will find samples of planners of a wide variety – from planning your year, to dayplanners to meal planners etc.
You will also find that different people use different planners, and not every planner may work for you!
But take heart – you can learn from anyone.
Have a look around, experiment, try one and see what will work for you.
---
How to Decide on Some Planning Principles to Follow
Ask yourself the following questions, and remember that it doesn't have to be the same as public school:
How long is a 'schoolyear' for you? (will it be e.g. 30 weeks, 36 weeks, 40 weeks?)
How long is a term or a quarter for you? How many terms make a year for you?
How many weeks are in a term or a quarter? (public schools have about 11 weeks per school quarter)
How many days in a week will be available for work? (If your children have music or sports during a morning, that morning will not have the same time available as other days, and will affect your schedule)
How many days per week would you like to work? Should one day be a 'different work school day'?
Just to illustrate another way of doing things:
In our home I follow 2 main principles.
We have 4 quarters each year. Each quarter consists of a 2 month school, 1 month holiday rhythm, with 9 weeks per quarter.
Every week has 4 days full morning work and 1 day 'nice work' (Art, music, experiments, poetry, technology etc.)
These routines have helped me and the children focus, and I have been doing this for nearly a decade now.
---
The scheduling activity is the practical figuring-out of how many pages of each book/curriculum must be completed each quarter/week/day in order for your child to finish the book/curriculum in a year.
Sometimes it is pages you plan, with another curriculum it might be Lessons you plan. For example, if there are 30 Lessons in total to complete in a year, you know that you must finish 1 Lesson per week.
The more difficult things to schedule are the projects and interest related research projects which do not neatly fit into a time frame and often do not have a set of books or preplanned set of material.
Scheduling is something I have seen many parents NOT do.
I believe this might be one of the reasons why people get frustrated if they do not complete the workload that they have envisioned.
If you have not planned work, you will not be able to see how much time you need to spend on work to finish.
If it becomes a habit of 'taking a day off' here and there, you might easily find yourself in a situation where you have much more work left to do than you would have wanted, and you may experience unnecessary stress and worry.
---
For Actions to take and Templates to use...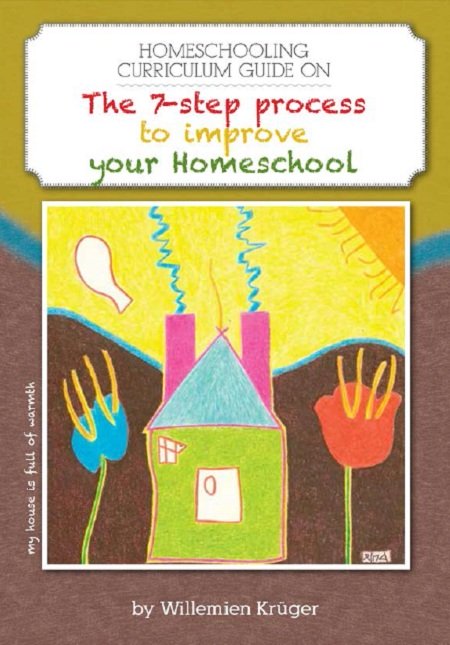 ---
For an example of what we have done Go to Step 5 Plan and do personal
For more information on the phases click on the relevant link:
Back to 7 Steps process overview
Back to Homeschooling Curriculum Guide Home Page