Encourage and Support your 10-13 year old's Thirst for Knowledge and Skills Development
Throughout all the phases a total view of spiritual, physical, intellectual, emotional and social development should be kept in mind.
With good habits established during the Foundation phase, there can be a more intense development of intellectual ability as well as emotional and social skills during this phase.
If the habits have not been established yet, give attention to that first, before focusing too much on academics.
I agree with the Trivium approach to homeschooling that calls this phase the Knowledge phase. Other approaches call this the Planting stage.
This is also the phase where children are very receptive to learning and actually enjoy doing this as long as they are allowed to follow their interests and if the work is presented in a non-boring manner.
It is usually during this phase that school children lose their enthusiasm for learning and with it the motivation to learn.
When you homeschool, use this opportunity to kindle the nature love of learning!
---
Primary goals for this stage
1. Participate in family devotions.
2. Establish regular Read Aloud habit using good books to read through together. This is good for both fluency and vocabulary expansion which will be needed in the highschool years.

3. Have an established academic Course of Study that (s)he works on independently. It is still useful to check Language development milestones as listed here for ages 9-10yrs or 10-11yrs.  It is also very important to lay the academic foundation of Maths well else the highschool years may be difficult. Read this article which explains this: High School Math - lay the foundation well
4. Still read good literature and keep a Reading Record.
5. Participate in sports, cultural and social activities as related to their gifts and talents.
---
Ideas and concepts for this stage
With the above list of goals one may feel overwhelmed!
Do not feel alone! It really isn't that difficult.
When you follow the Homeschool Curriculum Guide's unique 7 step process you will be guided through defining vision for your child which will help you have something to measure against.
The above list may serve as a starting point in helping you determine vision for your child. However, please only see this as pointers and add your own ideas as well.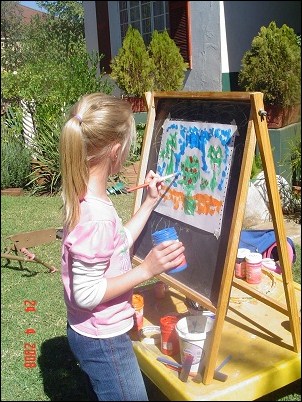 With the child being able to read and write fluently in both home language (e.g. Afrikaans) as well as English, this phase becomes more challenging for the child.
In our home there was a significant step-up in the volume of work to be accomplished in each of the learning areas or subjects that is part of my child's course of study. The routine and structure stayed the same but the quantity of work started increasing significantly.
Part of this step-up also included increased volumes of notetaking and mindmapping to summarise the work.
Involvement from my side therefore included training in these techniques, and eventually my children could continue independently.
---
Books I have found helpful during this stage
(Available in South Africa at LOOT or otherwise at AMAZON)
BOOKS

by

Hettie Brittz, e.g. Growing Kids with Character

ON BECOMING PRETEEN WISE, Gary Ezzo and Robert Bucknam
YOU CAN TEACH YOUR CHILD SUCCESSFULLY, Ruth Beechick
---
Back to Homeschooling Curriculum Guide Home Page