Statistics and Research on Homeschooling
In numerous studies the quality of education provided at home has been found to be superior to those provided in schools.
As the evidence accumulates, homeschooling is only better established as a valid and truly effective educational option.
This page will provide some research and statistics information to support this statement.
---
Research in the USA
Formal research studies have been conducted by the National Home Education Research Institute (NHERI) in the USA, as well as the Home School Legal Defence Association with published reports, including:
"Strengths of Their Own: Home Schoolers Across America."(1997)
"Homeschool Report 2009 : Academic achievement and Demographics"(2009)
Home Educated and NowAdults: Their Community and Civic Involvement, Views About Homeschooling, and Other Traits
"Homeschooling grows up"
Research facts on homeschooling
Following summaries of the reports' most significant findings:
(note that these are only a few, for more complete info see the reports available from NHERI or HSLDA)
Homeschoolers are still achieving higher scores than their public school counterparts—no matter what their family background, socio-economic level, or style of homeschooling.
The study also found that whether or not parents were teacher-certified had no impact on these high scores.
Homeschool graduates are active and involved in their communities.
Taking all things into consideration, 59% of the subjects reported that they were "very happy" with life, with another 39% declaring that they were "pretty happy" – this implicates that nearly all home educated students are pretty content with life in general.
73% of home educated students' perspective on life in general is that life is exciting compared to less than 48% of their general US counterparts finding life exciting. More than 50% of non-homeschooled children find life boring.
Homeschool students are increasingly being actively recruited by colleges.
The home-educated are doing well, typically above average, on measures of social, emotional, and psychological development. Research measures include peer interaction, self-concept, leadership skills, family cohesion, participation in community service, and self-esteem.
Homeschooling gives young people an unusual chance to ask questions such as, "Who am I?" and "What do I really want?"
Other interesting findings:

The vast majority of the parents of homeschoolers are married.
The families had an average of 3.5 children compared to the general population's average of 2.0 children.
The homeschooling parents' formal education level was above average (but the homeschooled students whose parents did not have college degrees still performed at the 83rd percentile).
---
Research in South Africa
In South Africa, Ms. Dierdre Bester has done research at the University of South Africa (UNISA) with the following summaries:
Children who receive home education perform much better in academics than their school counterparts and they are very well adapted socially.
Home educated children have
a greater sense of responsibility,
a positive self-image,
improved self confidence,
a positive outlook on life,
better time management skills,
own opinion formation and better decision making ability,
the ability to define and pursue own goals, and
an independent work attitude.
Bester also stated that one must never assume that positive socialization happens in schools – in fact quite the opposite can be true.
Homeschoolers can usually relate better than average both horizontally and vertically, take leadership positions often, has positive role models, have the tendency to build quality friendships and their self image is not dependent on group pressure.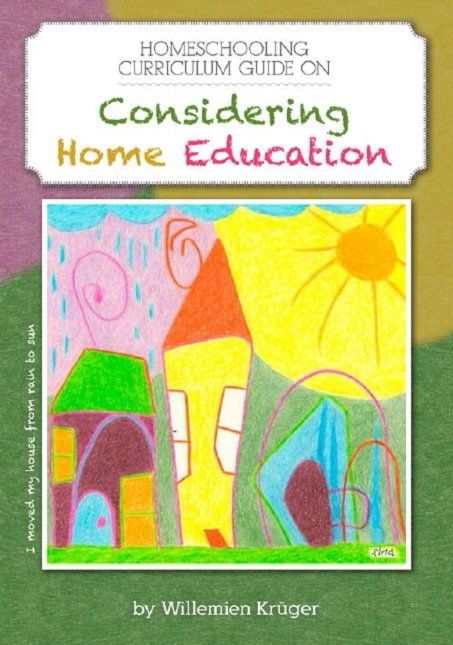 ---
Back to Homeschooling Curriculum Guide Home Page